Welcome to your A920 card machine. Here you'll find everything you need to know about getting set up with your terminal, and the answers to some of the most commonly asked questions.
Your PAX A920 brings style and practicality together, and is perfect for most independent businesses.
It features a 5" touch screen and allows you to track transactions by each member of staff.
WiFi and Bluetooth connection methods are provided as standard, and 4G can be added as an optional extra.
Getting started
Our A920 user guide is designed to provide users of the A920 with everything needed to set up, register, and process transactions.
Power and charging
Power On/Off
You can turn on the A920 by pressing and holding the small rectangle button on the right side of the terminal for 2-4 seconds and then release.
To turn off the device, hold down the same button until you are presented with the four options:
Airplane mode

Vibration

Reboot

Power off
Select 'Power Off', then select again. The device will then shut down.
Charging Instructions
Before starting up the A920, the battery should be fully charged.
Charge the device by plugging the USB end of the cable into a PC or power supply and then plug the Mini USB end into the port on the left side of the terminal. Charge the battery until full.
Logging in and main menu
Logging in
Once you have turned on your device you will be presented with the axept GO home screen.
This will display the Burger Menu in the top right corner, the date and time, and a blue "Payment" button.
Select the blue "Payment" button and wait for the User Credentials screen to load.
You will be asked to log in using your User ID and password. (All devices will be set up for usernames of 1111, 2222, 3333, 4444, 5555, and 6666)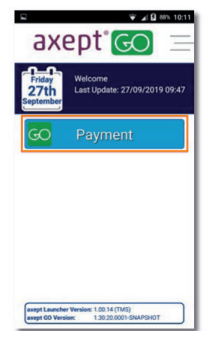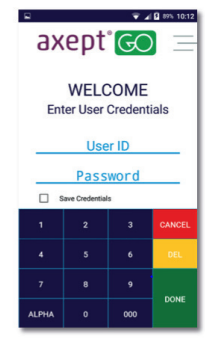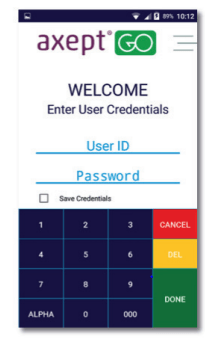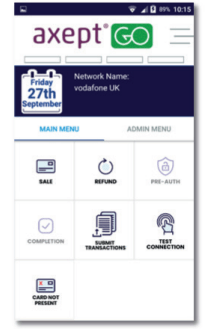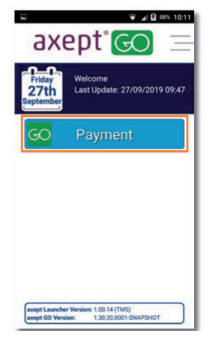 Main menu
Once you're logged in, you'll be taken to the menu screen. This is split into 'Main Menu' and 'Admin Menu'. On the Main Menu screen, you will find a small data display that will give you some quick information about your device.
This includes:
Your connection type

Your signal strength

Your number of stored transactions

Your user ID

Your department ID

Your terminal ID

Your merchant ID

Your last Z Report date and time

Your last update date and time