Card payments are on the up and cash payments are slowing down. In fact, it's predicted that by 2028, cash will make up as little as 9% of all payments - compared to the 60% it accounted for 20 years ago.
So, what does that mean for your hairdressing business? It means you've got to move with the times if you want to keep your customers in your chair over your competitors.
What do payments at hairdressers look like today?
UK consumers spent £7 billion at hair salons in 2022
Average consumer spends £145.60 at the hairdressers each year
Contactless transactions at hair salons are up 36%
In 2022, consumers spent £7.778 billion at hairdressing salons and personal grooming establishments, which is up 22% in comparison to 2021 figures.
Survey research from Statista also indicates that the average consumer spends £2.80 a week on hairdressing and beauty treatments, which adds up to £145.60 per year — and that's a lot of money to carry around, in fact, it's higher than the average withdrawal of £80 in 2022.
Here at takepayments, we've collected data on payment methods at hairdressing salons from June 2021-May 2022 and June 2022-May 2023.
We found that contactless transactions are on the rise at salons, having increased by 36% over the year, with the majority of customers preferring to pay by contactless. The increase of the UK contactless limit in October 2021 may have played a significant role in its rise in popularity.
In general, contactless transactions are becoming increasingly popular in every region of the UK, with people favouring plastic over cash. And, with the number of contactless transactions growing, hair salons should keep up with these changing payment trends.
If you're not already accepting tap-and-go payments, read on as we talk you through how you can easily set up your hair salon to take card and contactless transactions.
What are the benefits of accepting card payments?
Accepting card payments as a hairdressing salon can bring several benefits that can enhance your business operations, customer experience and satisfaction.
Increased revenue — By accepting card payments, you can attract more customers and increase sales. Nearly 1 in 3 people admit to never carrying cash, with more than half of people admitting to being deterred from shopping at a cash-only business.
Convenience for customers — Card payments offer a convenient and quick way for customers to pay for your services. In fact, almost 9 out of 10 (88%) of those who preferred contactless said convenience was one of the key reasons why.
Reduced risk of theft — Handling less cash can reduce the risk of theft or losses. With card payments, the money goes directly into your account, minimising the need for cash handling.
Improved cash flow — Card transactions are typically processed quickly, leading to faster access to funds. This can help improve your salon's cash flow, allowing you to manage expenses more efficiently.
Better professional image — Accepting card payments gives your hairdressing salon a more professional and modern image. It shows that you are up-to-date with current payment trends and customer preferences.
Increased impulse purchases — Customers are more likely to make impulse purchases or additional services when paying with cards, as they may have higher spending limits and less mental resistance to parting with cash.
Online payments and booking options — Card payments can be integrated into your website or mobile app, allowing customers to make online bookings and payments when it best suits them, which can enhance the overall customer experience.
What is the best way to take card payments as a hairdresser?
The answer to this largely depends on how you operate. If you own a salon, a countertop card machine is probably the best road to go down. If you rent a chair, work in a salon and do home appointments in your spare time, a mobile machine is likely more suitable.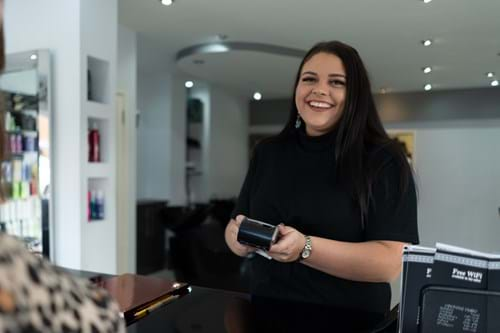 Countertop card machines
Countertop machines are handy if you serve customers from a single location - like your salon's till point. It plugs straight into your broadband or phone line and needs to connect to an electrical socket.
They're incredibly easy to set up and use too. Once it arrives, all you need to do is turn it on, follow the on-screen instructions, and you're ready to start taking card payments - credit, debit, contactless, Apple Pay or otherwise.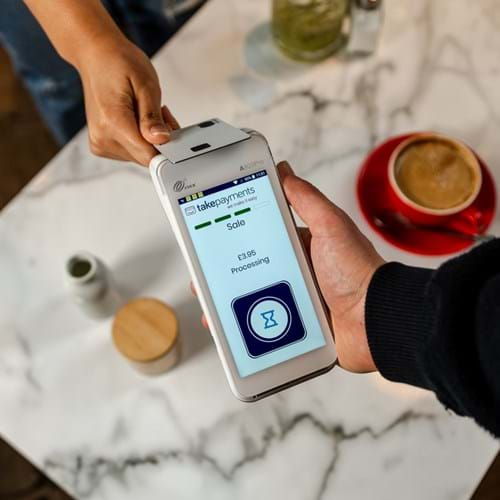 Mobile card machines
With a mobile card machine, you can accept card payments from a salon, your own living room or your client's kitchen, making it perfect for hairdressers who don't have a fixed payment point.
Just like your mobile, it uses 4G to connect to the strongest GPRS signal through a SIM card, and once a link's been made, it's ready and raring to go.
Most mobile card machines are designed to last all day, so you don't have to worry about it dying on you before you've clocked off. Just pop it on charge when you've finished and it'll be ready for tomorrow.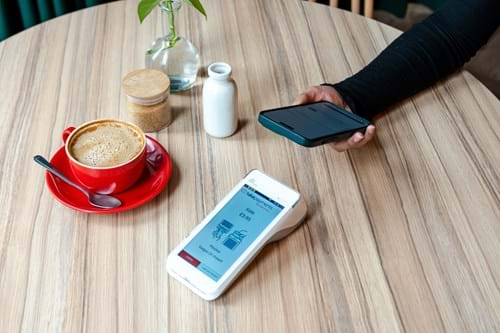 Portable Bluetooth card machines
If you work in a busy salon, you don't want to be stuck behind a till all day. And, with a portable Bluetooth card machine, you can be on the shop floor. Using wireless Bluetooth technology, you can take payments in the chair without any wires getting in the way.
This is also a good option for salons that offer beauty treatments as they have a 50m range, meaning you can take payments from almost anywhere.
Multi-MID merchant account
If you own a hair salon but you rent out chairs to various freelance employees, it's worth considering setting up a multi-MID (Merchant Identification Number) merchant account.
Typically, every business that accepts electronic payments will have a MID: a unique string of numbers that relate to their merchant account. This MID is often used for all of a business's transactions.
A multi-MID account means that you can process transactions from more than one merchant ID.
So, if you're a salon hiring out chairs, a multi-MID account essentially allows each freelancers to accept their payments through their own merchant ID. Then, as a business owner, you can segment and track payments and review your revenue separately from your freelance hairdressers.
How to accept tips at a hairdressers
We found that hairdressers are the second-most tipped industry, but that doesn't mean that you're not able to accept these on card machines. When it comes to the service charge, you simply need to add the additional cost to the total amount when you're keying in the price.
To find out more, we've broken this down in our tips versus service charge guide.
Will I be able to accept contactless payments?
Yes, you can take contactless payments with either our countertop, mobile or portable card machines,
The limit for a single contactless card transaction is £100, which is the most you can pay in one go by tapping your card.
Are card machines safe?
We can't speak for everyone out there, which is why it's important to do your research first, but all our card machines are, yes. We're fully PCI compliant across the board to protect both you and your customers, however and wherever they pay.
Here are some factors to consider to ensure the safety of using card machines:
EMV Chip — Most modern card machines are equipped with EMV chip technology, which provides an added layer of security compared to traditional magnetic stripe cards. EMV chips generate unique transaction codes for each transaction, making it difficult for attackers to clone cards.
PCI DSS Compliance — Businesses that process card payments must comply with the Payment Card Industry Data Security Standard (PCI DSS). This standard outlines security measures to protect cardholder data during and after a transaction. Ensuring compliance helps minimise the risk of data breaches and fraud.
Encryption — Card machines should use encryption to protect sensitive data during transmission. Encrypted data is unreadable to unauthorised parties, reducing the risk of interception or tampering.
Read our guide to card payment security to learn more about how you, and your customers, can stay safe.
How much does it cost to accept card payments?
It's difficult to give an upfront cost because it all depends on your individual circumstances. Here at takepayments, we personalise our packages to each and every client because we know no two businesses are the same.
So, we take a slightly different approach. We send one of our payment consultants out to chat with you, get a feel for how your business works, and then we provide a quote based on what we've learnt.
Don't worry if any or all of this sounds a bit complicated; your consultant will walk you through it.
And remember, banks charge to process cash payments too, so don't let the thought of rates and charges put you off; the benefits speak for themselves.
How long does it take to receive funds from card payments?
The time it takes to receive funds in your account can vary depending on your payment processor.
Typically, it takes 1-3 business days for the funds to be deposited into your business bank account.
Get your business set with takepayments
If you're ready to broaden your payment horizons, we know what it takes. And if you're still on the fence, here are a few quick facts about phone payments with us:
We're fully compliant.
Our system's super easy to use.
You can add as many users as you like.
We don't lock you into lengthy contracts.
We don't charge you to join or leave.
All our pricing packages are personalised.
Whether it's phone payments, other online payment solutions, or card terminals that we can help you with, get in touch with our team of experts on 08082 393254.