Instagram is one of the giants of the social media world - it boasts billions of users worldwide, and 200 million of those visit at least one business account on the platform each day.
Yep, there are big benefits to be had by businesses on Instagram, but how do you get your hands on these perks? It's all about nailing your content - giving consumers what they want, engaging them with your business, and ultimately turning them from browser to buyer. 
Top tip: check out our guide to getting more followers on your business Instagram account. 
Let's not beat around the bush, there's been enough to contend with in 2020 without worrying about the latest updates on social media platforms, we totally get it, so you're forgiven if you've not even noticed the latest addition to Instagram - Reels.
What's it all about? Is it something you should consider using for your business? How? We'll answer all these questions and more in our guide to Instagram Reels for business.
What are Instagram Reels?
In a nutshell, Instagram Reels are a type of short-form video content. The feature is built into the existing Instagram interface, so users needn't leave the platform to get their filming fix. 
Reels were introduced in August 2020, arguably in an effort to compete with increasingly popular rival platform TikTok.
Ever used Instagram Stories? Reels are very similar, in fact, you access your Reels on Instagram using the same Stories Camera, at the top left of the homepage.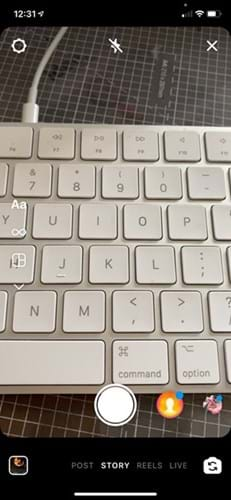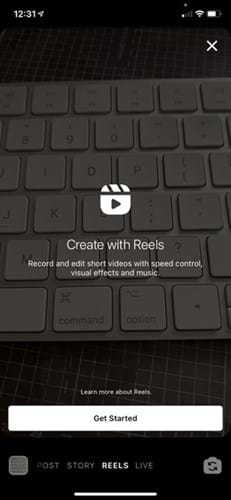 Here's all the info you'll need to know:
Videos created within Reels can be between three and 30 seconds long
You've got the option to film your content directly within the Reels camera, or
You can upload pre-filmed video content to Reels (but not photos)
Reels can be filmed as one continuous video or multiple snippets stitched together
It's predicted by just next year, videos will account for 80% of all consumer-based internet traffic, pretty staggering, right? 
Businesses who want to stay one step ahead are wise to scrub up on the latest video tools available to futureproof their business, give consumers what they want, stay competitive, and ultimately boost their success.
How to use them
Open Reels by heading to the camera icon in the top left corner of the Instagram home screen and selecting 'Reels' from the menu carousel (see image above).
Within Reels, you'll see five menu options down the left-hand side of the page; length, music, speed, effects, and timer.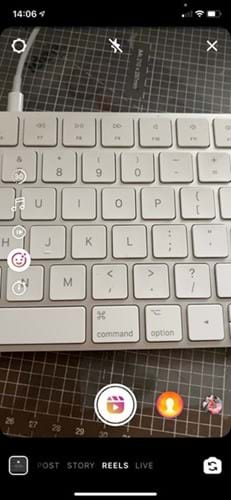 Length - toggle between video lengths*
Music - add an audio element to your content*
Speed - choose faster or slower recording speeds
Effects - add a whole host of special visual effects to your Reels
Timer - set a time for your recording so you can be hands-free
*Business Instagram accounts won't have access to these features - only personal and creator profiles. 
You must select your effects before recording your video, and when you're ready and rearing to go simply press and hold the shutter button at the bottom of the screen to begin recording your content.
You can record multiple clips up to 30 seconds long
There'll be a progress bar moving along the top of the screen to indicate the time remaining
Once done, you can trim or delete your clip by clicking on the left-pointing arrow at the bottom 
Click on the right-facing arrow to record another clip (remember if you want to add the same music or effects you'll need to select these first).
Use the icons at the top of the Reels camera to add stickers, text, and doodles to your clip (just like you would on Stories).
Add a caption (if it calls for one) - you can use 2,200 characters and up to 30 hashtags.
Top tip: play around with Reels and get to grips with all the features and how it works before posting anything to your business feeds.
Reels can be shared to your feed, your stories, or the Reels feed - so there's plenty of scope to reach a wide audience using the feature.
How to use Instagram reels for business - 7 top tips
Okay, now we've got to grips with what Reels is and how it works, let's get to the good stuff - how you can use the feature to benefit your business. 
1. Show your expertise
We harp on a lot on the takepayments blog about the value social platforms and digital marketing can bring by allowing you to establish yourself as a thought leader within your industry, and Reels is no exception.
Put yourself in front of the camera and create valuable content that showcases your expertise and highlights how knowledgeable you are about your industry, for example, if you run a cafe you could:
Talk about the impact of COVID on hospitality
Show how to make a top-notch cappuccino at home for people locked down
Or if you're a hairdresser you might:
Film a DIY hair tutorial
Show your favourite brands and explain why they're so good 
Not only does this form of content demonstrate your in-depth industry knowledge but it provides something of value to your followers by educating them on useful subjects.
Empower your followers with information and you'll begin to build trust, taking you one step closer to turning them into a paying customer - they'll remember you the next time they're in the market for products or services you offer.
2. Entertain
Consumers don't head to their social pages to be bombarded with sales pitches - social media is great for light-hearted entertainment, and users like to have fun, so factor this into your Reels content.
Intersperse your business-specific posts with entertaining, humorous, light-hearted snippets and you'll demonstrate the personal side of your business which is a big selling point to modern consumers.
Not only that but entertaining content is much more likely to catch the eye of passive scrollers whose attention will be piqued, who'll notice your business, and who'll be much more likely to check out your subsequent videos.
Who knows, your Reel might even go viral and work wonders for your marketing!
3. Promote
As we just mentioned, consumers don't want to be constantly sold to, it's irritating, to say the least, but that doesn't mean you can't occasionally sprinkle a little promotional content into your Reels and use them to up your marketing efforts.
If you've just published a new article to your website, you could create a snippet pointing your followers in the direction of your blog.
If you've just launched a new product range, you could showcase the items and even demonstrate how they're used best (providing value too).
If you've recently launched a take-away option in light of COVID, tell people!
To strike the right balance and avoid over-promotion, always remember the 80-20 rule. Limit self-promotion to 20% of your content and focus the other 80% on creating engaging, entertaining, and valuable stuff. 
4. Social proof
Product reviews and customer testimonials are a potential goldmine to businesses. Consumers believe and value the opinions of others, even if they're strangers, much more than they believe what a business has to say.
Sharing customer reviews is another way to empower consumers - you'll be giving them a voice and allowing them to engage deeply with your business - this has been shown to work wonders for repeat custom.
Since Reels are essentially videos, sharing written reviews won't work, so instead ask existing customers if they'd be willing to film themselves reviewing your products or services and share this content to your page - alternatively, you could film yourself sharing customer reviews.
5. Culture content
Today's consumers place much greater value on the personal side of businesses - they like to know who they're buying from and what's going on behind the scenes, so monopolise on this by crafting some culture content on your Reels.
It could be a film of:
Your products being made, 
Your staff at the Christmas party, 
Employees fooling around in the staff kitchen, 
Volunteering at the local soup kitchen 
Whatever it is, it'll give a sneak peek into the real-lives behind the screen, build a rapport and trust with consumers, and up your chances of converting them into a paying customer. 
6. Your story
On the subject of getting personal, use your Reels to share the background story of your business - essentially creating an interactive and frankly much more engaging version of an 'about us' page on your website.
What inspired you to run your own business? Where did you start and how far have you come? Have you faced any challenges? What's your ultimate goal?
Of course, this isn't something you'll be posting regularly, but Reels will live on your profile once you've posted them, so it's somewhere consumers who want to find out more about you can find everything they need to know in a much more relatable way.
7. Community management
Community management involves building and nurturing an authentic community between yourself, your employees, your target audience, and your existing customers, and can work wonders for your business, allowing you to:
Interact with your audience
Bring your business to life
Build relationships
Boost awareness
And heaps more good stuff. Done right, community management can build loyalty and boost revenue, and Reels provides another opportunity to nail it. 
Interact with your followers via Reels, answer questions, respond to feedback, ask for ideas and advice, areas for improvement, and so on and you'll open the door to a two-way dialogue, significantly increase engagement, and show consumers you truly value what they have to say.
For loads more useful resources put together with small businesses in mind, head over to our dedicated blog.