Getting set up with Instagram advertising is simple and can be an incredibly effective way of drumming up new business or simply letting people in the local area know you are open and offering deliveries (if you are)!
Before starting, make sure your business Instagram page is linked to your business Facebook page:
Open your Facebook Page.
Select Settings from the top menu.
Select Instagram.
To add an Instagram account to your Page, select Connect account. Enter your Instagram account's Username and Password, and select Log in.
If you do not have a business account, you will be prompted to convert your personal account.
Once this is done you're ready to go.
Step 1: Log into your Facebook Ads account
Yep, Instagram is owned by Facebook, so to advertise there you have to use Facebook Ads Manager.
If you've already followed our guide on how to advertise on Facebook, you'll be most of the way there already. Simply navigate to the Ads Manager account in the menu in the top left of the screen.

If you can't see this option, use this link: https://www.facebook.com/ads/manager and make sure you select the correct business profile from the drop down in the top left corner.

Step 2: Set up an Instagram campaign
Once you're in ads manager, you'll see the option to create a new campaign.

When you click this, you'll be given the option to create a Quick Campaign, or a Guided Campaign. We're going to go with a Quick Campaign as that is what is suitable for most small businesses.
When you get into the quick campaign builder, you'll see this screen: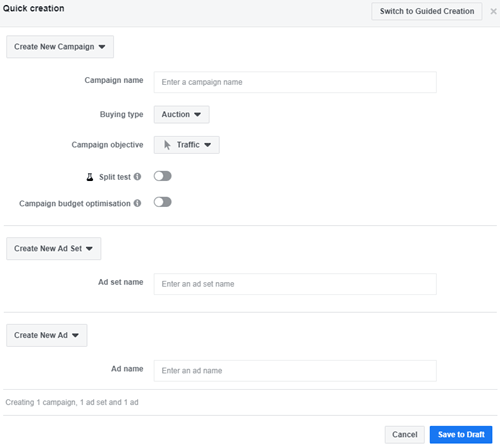 So go ahead and name the campaign, we're calling our "Instagram Demo", and select the objective of the campaign. The objective will vary from business to business so take some time to think about your goals. If you're a local takeaway, brand awareness might be a good option to make people aware that you are open for orders. If you have an online store you might want to select the traffic option to drive customers to your online storefront.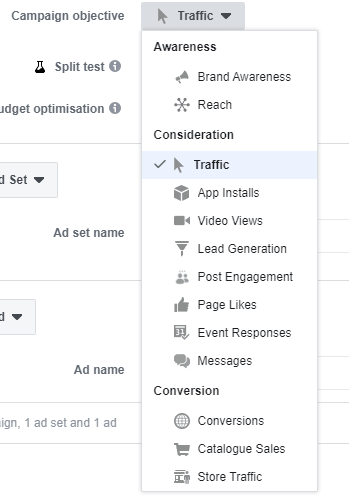 The "Split Test" & "Budget Optimisation" toggle allow Facebook to use it's database to optimise your ads automatically. Split tests let you create multiple ads and Facebook will figure out which one is working best and show it more often, and budget optimisation figures out which of your ad sets is working better and so will spend more of your budget there.
Since we're only creating 1 ad and 1 ad set, we'll leave these unchecked.
Go ahead and click on "Save Draft".
Step 3: Setting up ad sets and targeting
If you're on a laptop or desktop, you'll now see a screen that looks like this: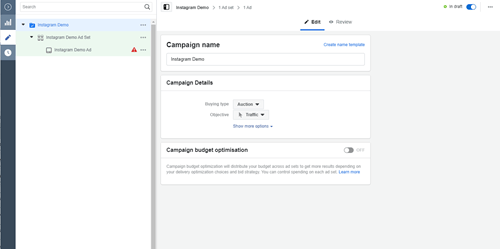 Select the Ad Set which is in the same location as our "Instagram Demo Ad Set" in the image. You'll now get a lot more options. This is where we'll select the audience we want to target with ads.
If you've been through our previous post talking about targeting, most of this will look familiar, but in a different order.
Budget & Schedule: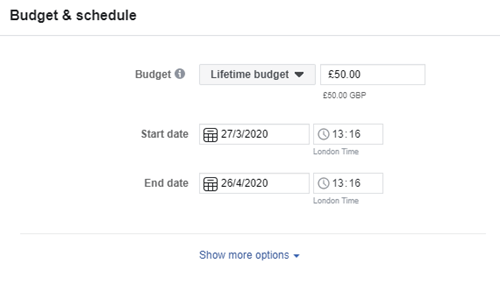 TAKE IT SLOW HERE! This is where you can spend a lot of money very quickly, so make sure the settings are correct. Select how much you want to spend and how long you want to spend it for. If you haven't got a big budget, definitely select "Lifetime budget" in the drop down here so that your ads won't continue spending more than you're comfortable with.
Audience: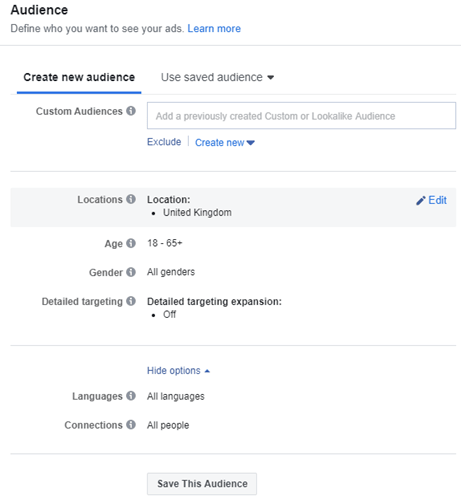 Select the audience that you want to target through Instagram. If you're a local business trying to get delivery orders, you can select a geographical location to target. Let's say you're trying to get customers who are in York. Select edit next to the location, type in York then select the location from the drop down that appears.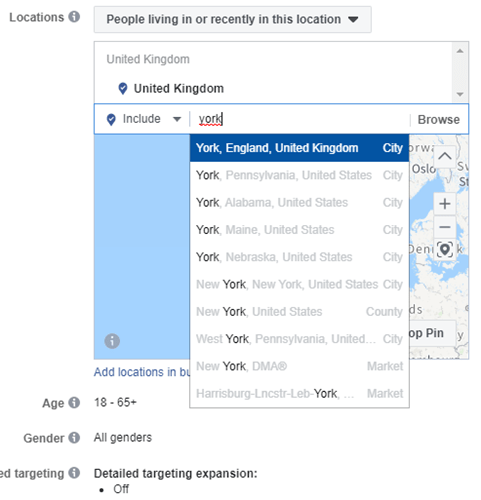 Once selected, you can decide how far away you are willing to advertise to, you can either select "Current city only" if for example you are a takeaway that delivers to York, or if you are an online business looking to advertise further afield you can target a radius around your location.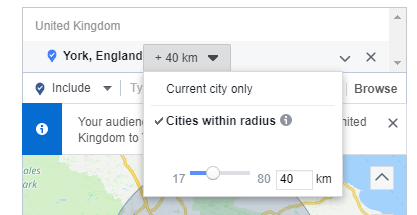 Select the best audience combination for your business. There are thousands of options here, we're trying to keep it simple and only using locations targeting to hit the widest audience but you can also target by age, gender, and more.
Placements:
Now you've got a target audience, it's time to make sure you're only showing ads on Instagram. Select the "Manual placements" option here and de-select all options other than Instagram. There are more granular options if you want to go through them and you can restrict your ads to only show in the main Instagram feed or only in stories if you want. We're allowing ours to show all over Instagram so that more people are able to see the ad.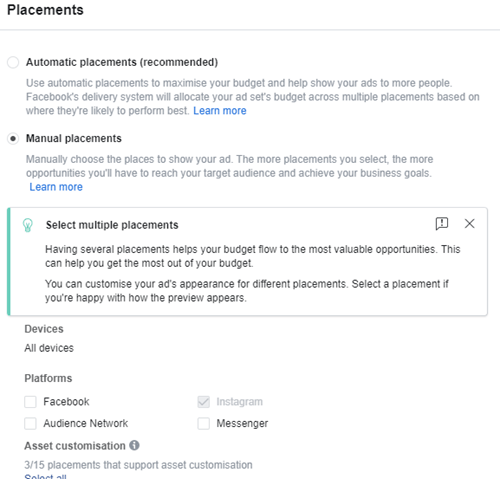 Optimisation and Delivery:
This is where you can add more advanced control to your ads, we're leaving this as "Link clicks" and letting Facebook determine the average cost per result.

Step 4: Creating Ads
Now it's time to create the ads! Select the next option down in the menu which corresponds to our "Instagram Demo Ad" to open up the next set of menus.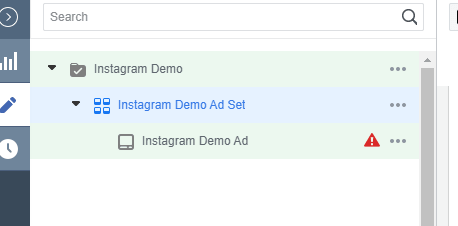 From here, you can either use an existing post from your Instagram profile that is linked to your Facebook account, or create one from scratch. Using an existing post is a much quicker way to get your ads live.

If you use an existing post, simply select the post from the options provided and then hit "Publish and you're good to go!

If you're creating an ad from scratch, follow Facebook's instructions to add images/videos and text to the ad for different formats. If you're new to online advertising, it's probably best to boost an existing post. If you want to get stuck into more advertising, start with a single image of video, then move onto carousels and collections.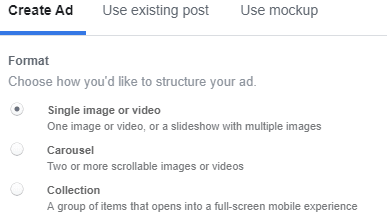 That's it! Congratulations on making it this far, advertising on Instagram isn't as straightforward as on other platforms but it can drive a lot of interest in your business.