Whether you're thinking about how you do business differently during this tough period, like offering a takeaway or delivery service, or want to start reaching more customers to keep trade coming in, this guide will give you everything you need to know about setting up and boosting posts on Facebook.
Step 1: Register as a business page on Facebook.
If you've got a business page on Facebook, you're already ahead! Skip to the next step. If you haven't got a business page yet, it's very simple to get one.
First open your Facebook account, then go the "Pages" tab and select "Create Page". This should bring you to the following options: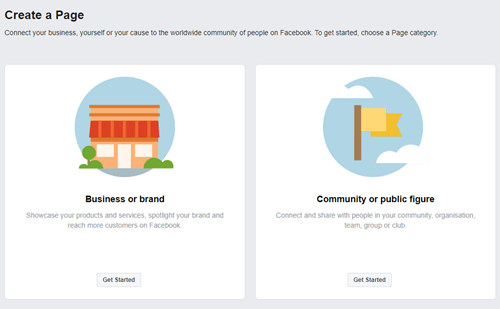 Facebook does a great job of walking you through the steps from here. Adding your business name and category, adding a profile and banner image, and listing all the information your customers will want to see from you. You don't need to go into too much detail, just an overview of your business is all you need.
Step 2: Create a post.
Once you have a business page, you can post your ad to the timeline. Create a post by clicking on your business page either in the left navigation menu, or from the drop down menu in the top right.

Once here, you'll see an input box to create a post. Create the post you want potential customers to see and give them a message that will make them act on it. You can add photos, videos, or if you're a budding designer, you can create illustrations or animations to upload and send out.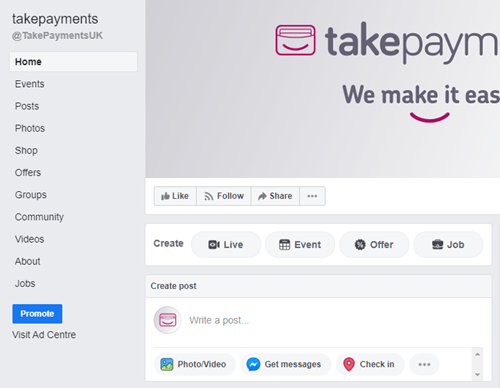 Once you've created your post, you can post it to your timeline for everyone to see. After you've done this, it's time to do some serious advertising, by clicking on the "Boost Post" button.
Step 3: Boosting
When you click the button, you'll be given a lot of options on how to target potential customers. 
Let's take care of the settings one by one:
Objective:
What do you want to achieve with this post?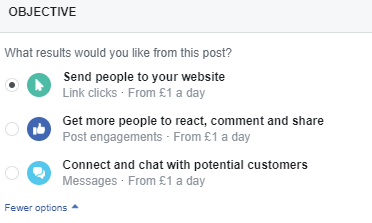 Choose the option most suited to your goals.
Post button:
Add a button users can click on underneath your post. This button is only available if you added a link in your post, and it isn't essential, but if you're an online business trying to drive website traffic this is definitely worth it.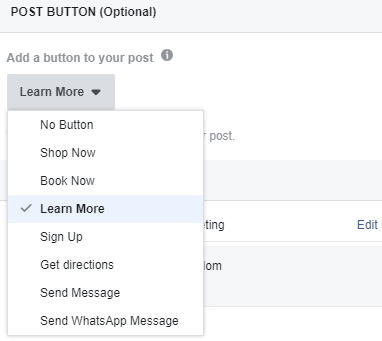 Now we're getting to Facebook's centrepiece.
Audience: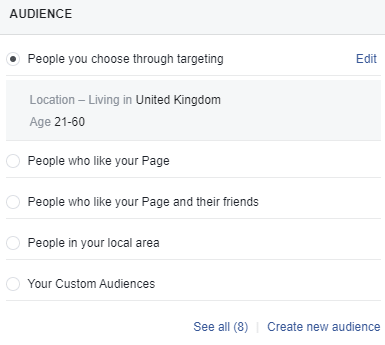 If you've got a thriving business page, you might want to advertise to your page followers only, however most businesses are trying to get more customers and that is where Facebook really shines.
If you're a restaurant or takeaway doing deliveries, you can restrict your audience to only show to users within a certain radius of your business. If you click on "edit" next to the "People you choose through targeting" you'll get another screen where you can choose to target Facebook users by age, gender and location.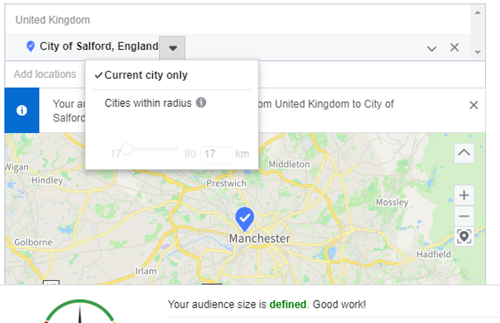 Let's say you're a takeaway in Salford, you can type in "Salford" to the add location here and select it, then select to only target this location so you aren't advertising to users who you cannot deliver to. If you can deliver further away, you can widen the targeting to cities within a certain radius of your selection.
There are lots of options here so take your time to get it right.
If you leave automatic placements on, you'll show ads across all the platforms Facebook owns, including Instagram so if you want to show ads here, leave this option active, if you only want to show ads on Facebook, turn it off.

Duration and budget:
This is where you tell Facebook how much you are willing to spend and how long you want the ads to run for. It's better to start small here, you can always add more budget to a campaign that is doing well so don't be too enthusiastic.
When you input budget and time, Facebook gives you an estimate of how many users will see your ad.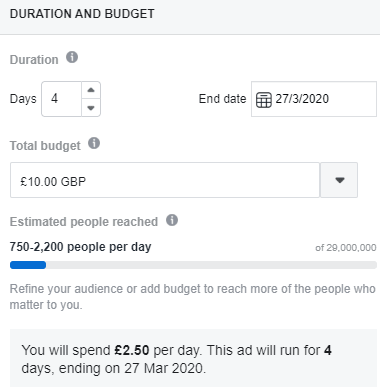 Tracking conversions:
If you're a website owner looking to see exactly how many users come to your site from Facebook, you can add Facebook's tracking pixel to your website and get more detailed metrics. For most people though, this isn't necessary, so don't worry too much about implementing it as it can get quite tricky!
Payment:
Now it's time to pay, you can add a payment method here to pay for your ads. Once you enter it, you're ready to go! Click "BOOST" and your ads will go to Facebook's internal moderators for review, and as long as you don't break any terms and conditions, your ads will be shown to users pretty quickly, normally within an hour.
Step 4: Results
Now there are ads live on Facebook all you have to do is wait for the customers to see and react to them. You can see what users are doing with your boosted posts in the Ad Centre for your page.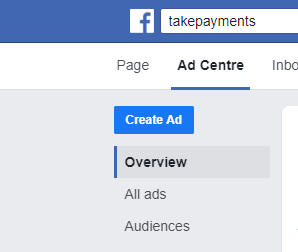 Here you can see how many users have seen your ad called "Reach", how many clicks, reactions and comments your post received and more!
Make sure you check out all the options available and have a think about what settings would be most beneficial to your business. There are lots of people trapped indoors and using social media to communicate so you could drive lots of interest in your business.
Maybe try working with other local businesses to pool resources and put out a joint campaign which will benefit everyone.
There's lots that can be done through Facebook advertising so get creative and keep on trading!