Have you heard about the book shop built for only one customer in Lisbon? Or what about the Italian cinema that can only accommodate 63 viewers at a time? If the answer is no, you're in luck. We've travelled far and wide to discover the world's smallest spaces used by small businesses. So, grab your teeny tiny suitcase and take a tour through our list of the brilliantly bizarre.
The 10 smallest small businesses in the world
1. Cinema Dei Piccoli – Cinema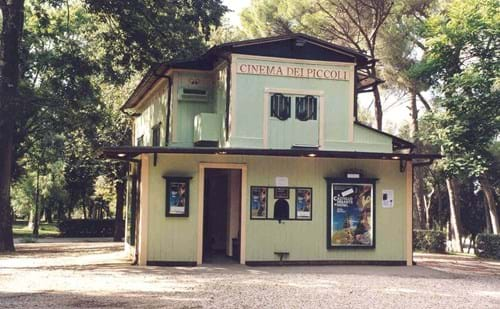 Location: Rome, Italy       
Address: Villa Borghese, Largo Marcello Mastroianni, 15, 00197 Roma RM, Italy
Perched in the centre of Villa Borghese Park, Rome, you will find the world's smallest cinema. Its name is Cinema Dei Piccoli. It's so tiny, in fact, that its single screen and minuscule 63 seats are featured in the Guinness Book of World Records. Although the theatre doesn't have a large capacity, their movie selection is fantastic — so don't let that put you off visiting.
2. Warung Selasa – Restaurant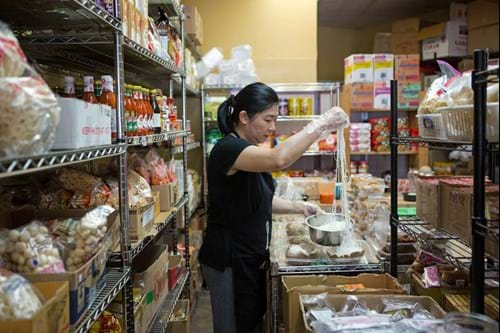 Location: New York, United States
Address: 8512 Queens Boulevard, Queens, NY, USA
There's just one tiny table for two at Warung Salesa, New York. And it's tucked away inside Indo Java, a humble Indonesian grocery store on a busy street in Queens. But snagging a seat at its unmistakable yellow table is no easy feat, as the restaurant is only open a couple of nights a week. We recommend trying, though. The food packs a much bigger punch than its square footage and has even earned praised from The New York Times. 
3. Livraria Simão – Book Shop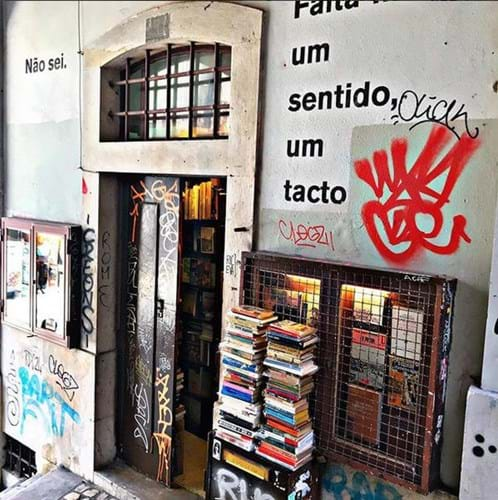 Location: Lisbon, Portugal
Address: Escadinhas de São Cristóvão 18, 1100-619 Lisboa, Portugal
Hidden away at the beginning of Escadinhas de São Cristóvão is the tiniest bookshop you will ever see. The owner, Simão Carneiro, took over this former tobacco shop in 2008 and began work as a proprietor of literature. It's so small that only one person can fit inside at a time!
4. The Smallest Record Store in the World – Record shop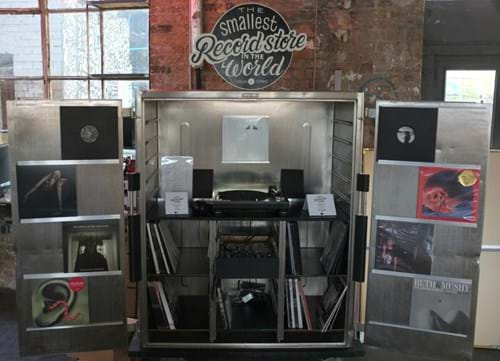 Location: Berlin, Germany
Address: Berliner Innenstadt, 10245 Berlin, Germany
Head to Urban Spree Art Galerie and you'll find a vintage temp-rite refrigerator kitted out with a mixer, table, and heaps of boutique vinyl from exclusive Berlin labels. This delightful business owns the title of the smallest record store in the world. It's devoted to little heard and challenging music, housing around 2,000 releases. But thanks to recent success, the team want to expand their business by opening stores in Paris and Brussels.
5. Eh'häusl Hotel - Hotel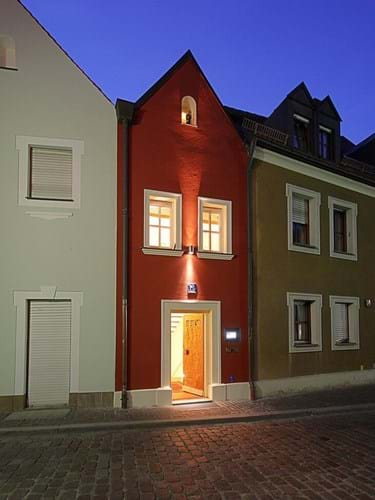 Location: Amberg, Germany   
Address: Seminargasse 8, 92224 Amberg, Germany           
The Eh'häusl Hotel in Amberg, Germany, holds the Guinness World Record for the planet's smallest hotel. In 1728, a local built a house with a total floor space of just 173 square feet (53 square meters) in a 2.5meter gap between two buildings. It's what was known as a 'marriage house' — somewhere German couples could live before they tied the knot.
6. Ochopee Post Office – Post Office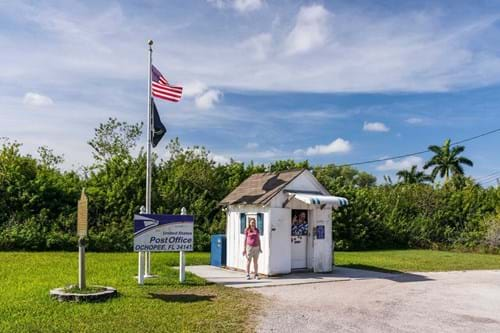 Location: Ochopee, United States
Address: 38000 Tamiami Trail E, Ochopee, FL 34141, United States
The Ochopee Post Office is the smallest post office building in the United States, housing only enough room to accommodate one member of staff. The Post Office is located in a tiny shed once used to store tools and tomatoes along Route 41 in Collier County. The building is 8 feet 4 inches deep, around 7 foot wide and holds 40 P.O. boxes.
7. The Food Booth – Curry house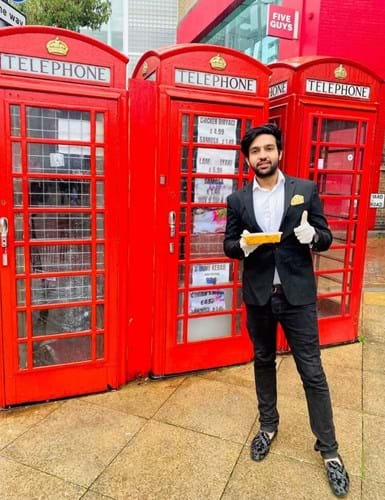 Location: London, UK
Address: 162-163 High St, Uxbridge, London UB8 1JZ
Opened in 2020 on Uxbridge High Street is the world's smallest curry house. But it's no ordinary restaurant. This tiny eatery takes up the space of a disused red phone box, where staff serve up everything up from fresh biryanis to spicy street food at lunchtime.
8. Kremlhoftheater - Theatre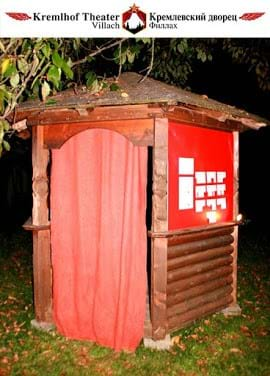 Location: Villach, Austria
Address: Ludwig-Walter-Straße 29, 9500 Villach, Austria
Listed as a Guinness world record for the smallest regulary operated theatre, this theatre has a maximum capacity of 8 seats and is run by VADA and kärnöl. The bitesize theatre offers regular showings of plays, opera and ballet.
9. Platform 3 – pub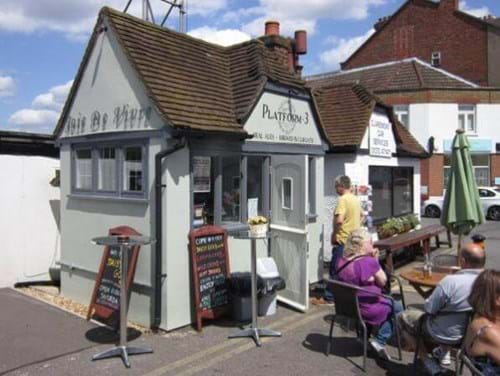 Location: Claygate, U.K.
Address: 37B The Parade, Claygate, Esher KT10 0PD
Platform 3 microbrewery in Claygate has become quite the tourist attraction, offering real ale fans speciality beers straight from the cask. Located next door to Claygate railway station, Platform 3 is Surrey's most miniature pub, and considered to be the smallest pub in the U.K.
10. Berties Barber Shop – Barbershop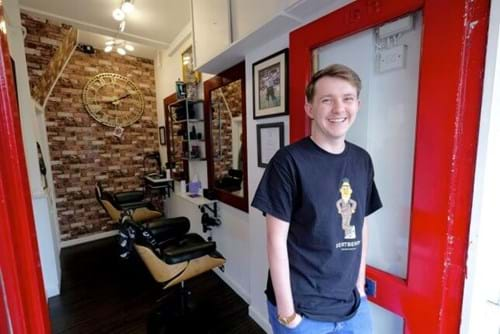 Location: Bristol, UK
Address: 13 Princess Victoria St, Clifton, Bristol BS8 4BX
Founded by a 22-year-old Bristonian, Berties Barber Shop weighs in at just 4.2 square meters. The shop is so small, in fact, that it doesn't allow for social distancing — but don't worry, the owner has opened a temporary shop during the pandemic to make sure his clients still get the freshest fades. 
The 10 smallest small businesses in the UK
1. The Circus Tavern - Pub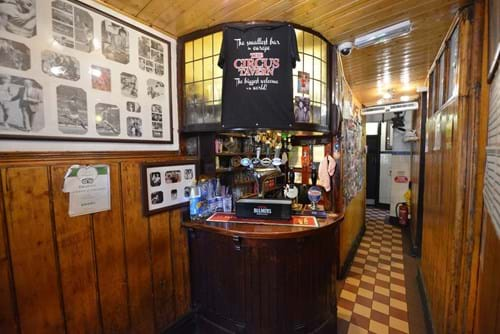 Location: Manchester, U.K.
Address: 6 Portland St Manchester M1 4GX, United Kingdom
Some might say The Circus' antiquated tables and worn leather seats are a hark back to yesteryear. But that's precisely what makes it so wonderful — it has character by the pint load! Every inch speaks of its history, including the building itself, which dates back to 1790 and was once a butchery. Each room is about three and a half square meters and it's a tight squeeze when there are 40 customers in. The Circus Tavern may be small but it sure is friendly as this pub proudly has the slogan 'the smallest bar in Europe, the biggest welcome in the world'.
2. Gloucester Studio – Restaurant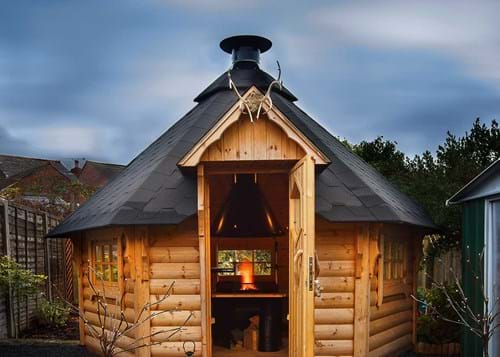 Location: Gloucester, U.K.
Address: 183 Linden Rd, Gloucester GL1 5DU
Known as the cosiest restaurant in the Cotswolds, Gloucester studio offers an immersive dining experience. Located at the top of a pathway lit with lanterns, this eatery beckons guests into a tiny room strewn with fabulous fires. The staff then use these fires to cook and smoke food for the limited covers.
3. Amar phone box Café – Cafe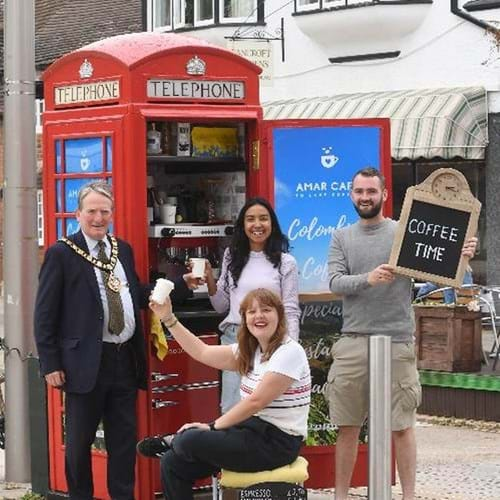 Location: Stratford, UK
Address : 22 Waterside, Stratford-upon-Avon CV37 6EF
Located in a converted phone box on Stratford's waterside is one of the U.K.'s tiniest coffee houses – Amar Café. This is the brainchild of a coffee-loving couple whose dream it was to convert a disused phone box into a micro-café. Here you'll find Columbian beans being sold in homage to place where the couple met.
4. Jolly Toys – Toy shop
Location: Thrapston, U.K.
Address: 28a High St, Thrapston, Kettering NN14 4JH
Considered to be the U.K.'s smallest toy shop, Jolly Toys sits in a charming listed building dating back to the 1700s. Head to the market town of Thrapston, Northamptonshire, and you'll find the owner clambering up funky, green shop ladders to reach the best toys in town.
5. Club 28 – Night club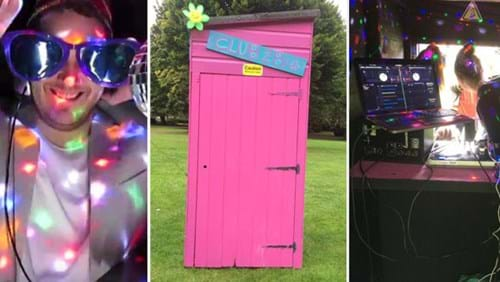 Location: Rotherham, UK
Club 28 was unveiled as part of the first-ever Rotherham Carnival. Measuring just 2.01 m (6 ft 7 in) high and 0.92 m (3 ft) wide, Club 28 is classed as the world's smallest mobile nightclub. The maximum capacity for the "lounge" is six people — seven including the D.J. In its heyday, D.J.s played a mixture of contemporary, classic house, and chart music.
6. Tiny Salon – Hair salon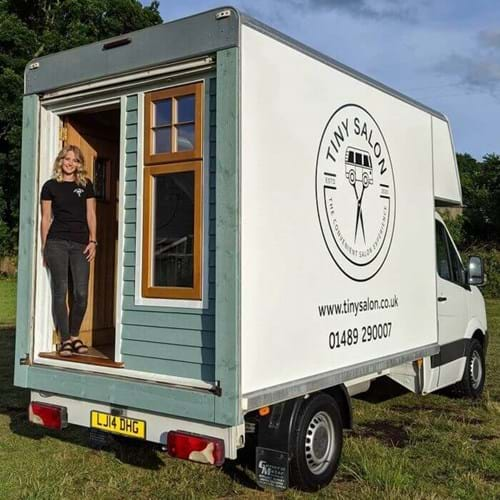 Location: Reading, U.K.
Tiny Salon is an Eco-Conscious Hair Salon that operates out of a van in the Botley and surrounding areas. After hairdressing establishments were closed during the first U.K. lockdown, asthmatic owner Laura was worried about returning to her old job. As such, she launched Tiny Salon — a place that brings hairdressing to peoples' front doors.
7. Schoolhouse Cinema - Cinema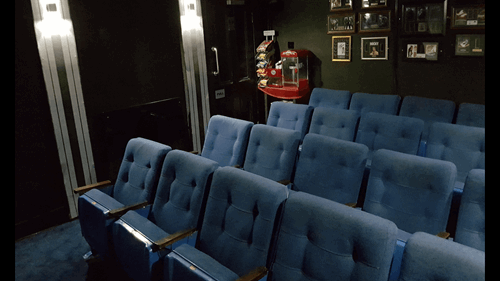 Location: Shetland Islands, U.K.
Address: Schoolhouse, West Isle, Out Skerries ZE2 9AS
Officially the smallest cinema in Scotland, this renovated old schoolhouse boasts just 20 cinema seats and a personalized movie experience. Located on the beautiful, tiny island of Housay, schoolhouse cinema provides cinemagoers with free admission, free popcorn, and free chocolate. The hosts are super friendly, and its seats are some of the comfiest going.  
8. The Hen and Chickens Theatre Bar – Theatre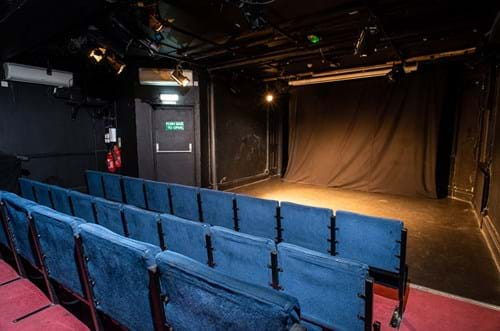 Location: London, UK
109 St. Pauls Road, London, Greater London, N1 2NA
This intimate theatre fits just 54 seats above a well-established watering hole. 'The Chicks' stage is known locally for showcasing the best in stand-up comedy, showcasing iconic performers like Jimmy Carr and Russell Brand among others.
9. The Phone Box – Electrical goods shop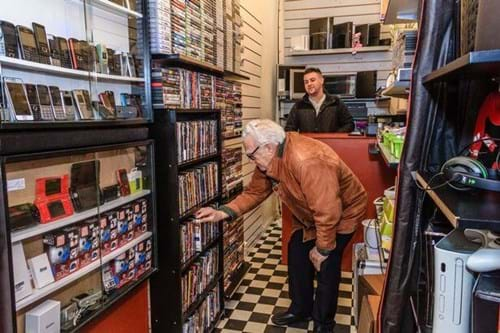 Location: Teignmouth, U.K.
Address: 13 Bank St, Teignmouth TQ14 8AL
The smallest shop in the U.K. measures just 7 square meters. The Phone Box sells and repairs phones, laptops, and other electrical items. It was once a barber's shop, and can only fit three customers in at a time — which sometimes results in a lengthy queue outside.  
10. The Corbigoe Hotel – Hotel room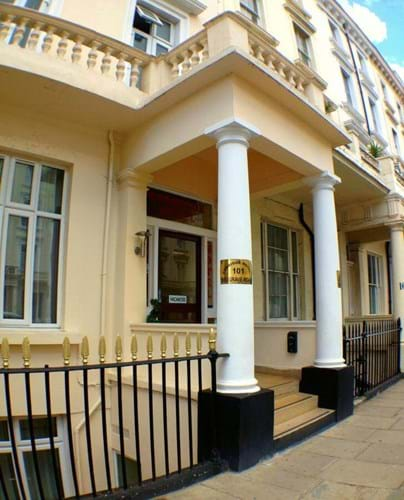 Location: London, UK
Address: 101 Belgrave Rd, Victoria, London SW1V 2BH
This London hotel takes the term "micro lodging" to another level. Advertised at a meagre 53 square feet (5 square meters), a small single room at the Corbigoe Hotel is half the size of a U.K. parking space!
Image credits
Cinema Dei Piccoli – Cinema Dei Piccoli  https://www.cinemadeipiccoli.com/info/
The Circus Tavern – Manchester evening news https://www.manchestereveningnews.co.uk/whats-on/food-drink-news/gallery/manchesters-biggest-pub-smallest-bar-12798184
Warung Selasa – New York Times https://www.nytimes.com/2017/09/28/dining/indonesian-food-kopi-kopi-warung-selasa-review.html
Livraria Simão – Atls Obscura https://www.atlasobscura.com/places/livraria-simao
The Smallest Record Store in the World – Schmutz https://www.schmutzberlin.com/urban-spree-launches-smallest-record-store-in-the-world/
Ochopee Post Office – Trip Advisor https://www.tripadvisor.co.uk/Attraction_Review-g60734-d531910-Reviews-Ochopee_Post_Office-Ochopee_Florida.html
Eh'häusl Hotel - Uniq https://www.uniqhotels.com/the-smallest-hotel-in-the-world
Club 28 – Guinness World Records https://www.guinnessworldrecords.com/news/2017/3/rotherham-opens-world%E2%80%99s-smallest-mobile-nightclub-464712
Kremlhoftheater- Wikipedia https://commons.wikimedia.org/wiki/File:Kremlhoftheater.jpg
Tiny Salon – Tiny Salon https://tinysalon.co.uk/
Platform 3 – Culture calling https://www.culturecalling.com/uk/features/top-5-brewery-tours-in-surrey
Amar phone box Café – Coventry live https://www.coventrytelegraph.net/news/local-news/tiny-cafe-opens-inside-old-18799914
Schoolhouse Cinema – Atlas Obscura https://www.atlasobscura.com/users/steamqueen13/lists/interesting-places?page=10#g
Berties Barber Shop – Metro https://metro.co.uk/2019/10/11/man-opens-barber-shop-so-tiny-it-can-only-fit-two-customers-inside-at-a-time-10900841/
The Hen and Chickens Theatre Bar – The Hen and Chickens Theatre bar https://www.thehenandchickenstheatrebar.co.uk/venue
Gloucester Studio – Gloucester Studio http://gloucesterstudio.com/
The Phone Box – Devon Live https://www.devonlive.com/whats-on/shopping/smallest-shop-country-its-devon-1292688
The Corbigoe Hotel – The Independent https://www.independent.co.uk/travel/news-and-advice/london-hotel-smallest-room-micro-corbigoe-size-parking-space-a8634596.html
The Food Booth – The Daily Mail https://www.dailymail.co.uk/news/article-8797583/Entrepreneur-25-opens-worlds-smallest-takeaway-curry-house-disused-red-phone-box.html
Jolly Toys – Jollys Toys http://www.jollystoys.co.uk/